Originally posted on FWMJ's Producers I Know:
This is another single from Yamin Semali of Clan Destined's upcoming solo album "Yamin". "Are You Sure?" features Rasheeda Ali and is produced by the homie Illastrate. Salute Atlanta. I can't wait to hear the completed project. If you're sleeping on Clan Destined (salute DJ AmDex), Methuzaleh, Boog Brown, Senor Kaos, StaHHr, Floyd The Locsmif and co. then I feel sorry for your mothers. Don't sleep on this…
One.
I love this song. Check it out and let me know what you think!
I had a great time seeing Clan Destined perform and had just as good of a time mingling with the people in the crowd!!! S/o to Shalay and LaNoya!  The show had many great features including Senor Kaos. Check out the video below.
Clan D's album is one of the best I've heard! Good listening all the way through! Check it out!
For the year 2011, one of my resolutions was to be around more people that love what I love and do what I do. Of course, like most resolutions, I didn't actually plan to start it on New Years Day. (that's crazy!) But the Universe had different plans.
Had a great time partying with Poodie,  Illastrate, Adrift da Belle, Methuzulah, and many others! Great artists as well as people…
An enemy of my enemy is my friend has something in common with me :My take on Nicki Minaj.
I am OFTEN asked how I feel about Nicki Minaj. For some reason people like to compare us. Not sure why but a family member even said we look a like. (Don't get me wrong. She's pretty but WTF?!?!?!) Because I'm an artist I guess it's a requirement now for me to talk about someone I kinda feel has nothing to do with me. (Funny no one ever asks how I feel about Ms. Hill's skills, its just known.) Anywho, I decided to put it in a blog so I can say "funny you ask! Check me out at www.msseven.com. (Shameless plug I know…)
As a lyricist, Nicki is NOT one of the best. As a role model for our youth; she seriously lacks substance. But when she gets on the subject of hatin ass females, I almost catch the holy ghost! Minaj also has a cadence and a distinct voice that a lot of female rappers lack. I'm not saying go out and get "Pink Friday" (I haven't had the urge to cop it myself), but I'm willing to bet she has cuts on there that will make you want to whip your hair back and forth all in a hater's face. That being said some of my people like Nicki and some of my people don't. Yes, there does seem to be a destructive social and mental conditioning associated with black music and music geared toward black youth. And , yes, she does seem to contribute to that conditioning. However we have to ask ourselves, have WE contributed to it as well? If Nicki is garbage, fine, throw her out. But have you sought after and supported an artist that would take her place? You can't stand her, but you live in Atlanta and don't know artists like Adrift Da Belle, Atlanta's super group the 5ive, or Ness Lee (Hint: Google them all now). You can't stand Nicki, but more than half the music you own are of artists that respect her or that have her same message. Does this make you part of the problem or the solution?
Because I am an Artist I know the perception that 'mainstream music is better music' is a load of BuSh, but Minaj is selling a lot of music. As artists we should challenge ourselves to break the starving artists curse. If we are the positive and talented artists and they are not, then God is on our side.
That being said, (Note: Gemini's say that a lot) like Minaj, I am not a fan of the underachieving gossipy jealous females either (hatin bitches for those who missed it). If she is an expert on anything she is an expert at receiving hate and jealousy, and oh boy does she go in on the ones that dish it out!! I also believe that said females should kick rocks. For instance if you're reading this to find something wrong and not for entertainment, you might be hatin bitch. If you talk more about people you don't like then about people you do, you might be a hatin bitch. (Note to self: I could do a whole routine on this like Foxworthy) If you like something, bless it with your energy. If you don't like something give it NO energy. If everyone did that Nicki would be way less popular. In this case I can't say an enemy of my enemy is my friend, but Nicki and I do have one (and I believe only one) thing in common.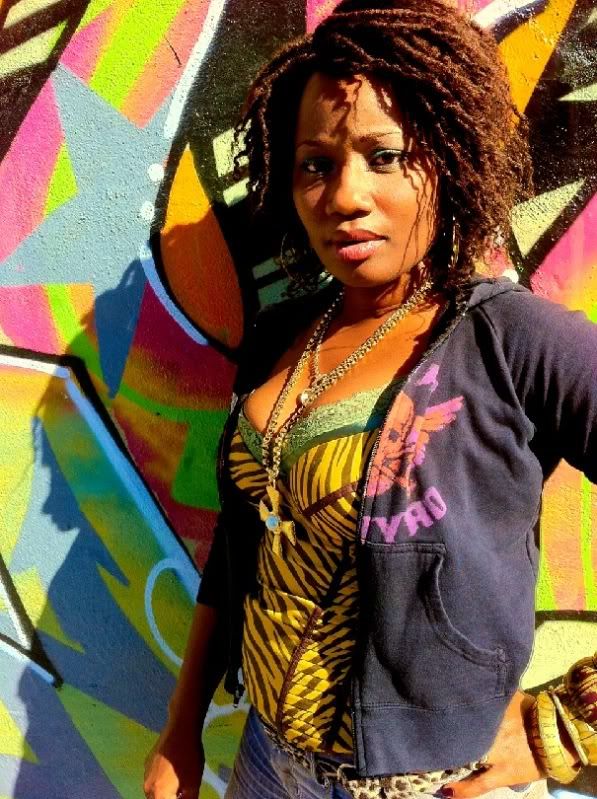 I LOVE this song! It was written by yours truly and produced by Shudoshi of earbubbles productions. www.earbubbles.com You thought O.D.B. liked it raw? Well you haven't met this methodical mastermind! (got a little over excited with the wording there) Here's a producer that loves  raw kicks and snares that bring the song through the speakers to you live. Shudoshi has what a lot of artists today simply DO NOT have, a sound. Yes your music is good and yes you have a merry band of artists singing your praises, but what is distinctive about you? I was so happy to work with him again on this project as I have on my first album. Being in the studio and recording the music is so free and this man is in LOVE with the first take and all of its perfect imperfections. The lyrics to Bridgette was never written down, they came to me that quickly, so I wanted to work with him to get the "raw easy listening" vibe. MISSION ACCOMPLISHED!!! "Bridgette" is here for your listening pleasure! We just finished shooting the video and I'm too excited!